Cardboard display packaging – stands
Product cardboard packaging may be used for showing variety of products on storefronts. Most display packaging is designed to not only make products look good in them but also to make it easier for customers to reach for the product. Product cardboard packaging may be successfully used in many industries. If you choose cardboard packaging, you contribute positively to the protection of natural environment due to its reusability.
What is the display packaging made of?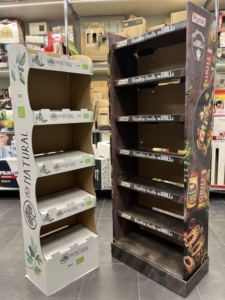 The production of display packaging uses laminated cardboard, which is made of 2-3 materials sticked together. The lamination method perfectly combines the quality of the offset printing with the thickness of corrugated cardboard and so gives us opportunity to create durable cardboard packaging. The packaging will work greatly not only as the display packaging, but also as an effective protection packaging, due to its properties.
If you choose the cardboard display packaging from our offer, you'll have a chance to customize or enrich your packaging with variety of print enhancements – it'll make your packaging both functional and aesthetically looking, draw attention of passers-by – thus will be an ideal advertising medium.
If you lack ideas for an interesting form of printing, it is worth using one of the available methods of print enhancement, such as UV varnish (glossy or matte), hybrid methods, holographic Cast & Cure or Coldfoil metallization. The print can also be subject to embossing.
What's the use of the cardboard display packaging?
What are the product boxes? The product boxes are the boxes for storing individual goods but according to one's needs they may serve also as collective packaging. They provide an optimal solution, which is popular among producers from various industries.
The product boxes are made of environmentally friendly materials which may be recycled. That makes this solution environmentally friendly and the packaging itself may be recycled when it's no longer usable.
Apart from being practical in use, the cardboard packaging may also serve for promotional purpose, as you can put printings on them. That gives you a chance to create various types of boxes, perfectly matched to the character of the product offered.