FOLDING BOXES
The storage and shipping of many items requires adequate and quick form of security. This level of security may be provided by folding boxes, made of solid, durable flat or corrugated cardboard. This type of packaging works well when frequent packaging becomes tiresome and problematic. They are designed in a way making their folding easy and quick. Folding takes only a few seconds.
WHAT ARE THE CHARACTERISTICS OF FOLDING BOXES?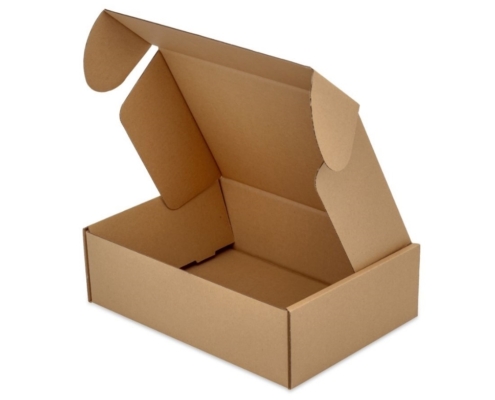 This type of packaging is used for storage and packaging of goods to be shipped or displayed. They are often defined as a die-cutter type, as die-cutter tools are used during their production. A die-cutter is a special tool constructed each time when there is a need to create a specific model of a folding packaging. The die-cut is in the form of a plywood board, which is prepared by laser cutting.
The main feature of folding cardboard boxes is that they are equipped with characteristic flaps and wings, which allow the package to be closed easily and efficiently without the use of adhesive tape.
Folding packagings have many different patterns. Some of them may have double walls, what makes them more durable and resistant to mechanical damage.
Folding packaging is made of:
solid cardboard with full offset printing or blank, without printing,
corrugated cardboard with flexo graphic print or without print in a natural, brown or white color
As a result of combining solid and corrugated cardboard (laminated packaging).
FOLDING PACKAGINGS AND QUICK AND GOOD-LOOKING PACKAGINGS FOR MANY ITEMS
Folding packagings give each packaged product an extremely elegant look. They are available in a stylish white color and in a universal one – natural gray (so-called eco), as well as laminated with any offset printing.
An important advantage of these packagings is their aesthetic appearance. A user, who chooses this kind of cardboard packaging, does not need any additional decorations because a simple form of the folding packaging falls within minimalist style.
The smallest size packagings can be successfully used to pack small products such as:
small electronic equipment: phones or tablets,
small gadgets,
body care cosmetic,
perfumes.
Larger folding cardboard packaging can be packed in:
clothing,
footwear,
leather goods,
books,
some foodstuffs.
Users who use this kind of packaging may be certain that it draws a recipient's attention.