Cardboard Baby Cribs
Nowadays, with ecology and sustainability becoming increasingly important, many companies and parents are looking for alternatives to traditional wooden cribs for babies. One of the interesting and innovative solutions gaining in popularity is a carboard crib. It's a simple, light and eco-friendly solution, which perfectly matches the need of parents for whom comfort and safety of their child is important, but also who don't forget about natural environment.
Ecological and functional benefits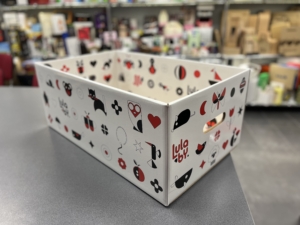 Our cardboard baby crib is made of renewable and biodegradable material, making it an environmentally friendly choice. Production of the crib uses much less energy in comparison to the production of standard wooden or metal baby cribs. What's more, after the crib is no longer needed, you may easily subject it to recycling or composting so that its impact on the environment is reduced. The cardboard crib is also very light and you may easily transport it to another place, making it very helpful for parents who travel a lot or who plan to move out.
Safety and comfort
Although the cardboard crib seems to be less durable and stable than standard cribs, it is in fact designed to meet all safety standards.  Producers of such cribs put a great emphasize to make it very durable, stable and comfortable for babies. Many cardboard cribs are equipped with mattresses, which adjust to the baby's body, providing them with comfort and proper support during sleep. We also can't forget about the airy character of the crib construction – your baby avoids overheating and is provided with thermal comfort.
Aesthetics and customization
Contrary to what stereotypes say, the cardboard crib doesn't have to look dull or unsightly. Producers offer variety of patterns and colors, some of them provide opportunity to customize the product by adding a baby's name, favorite cartoon characters or motives. It makes the cardboard crib not only a functional, but also an attractive piece of furniture for your child's room. What's more, the cardboard crib is a perfect idea for baby shower.
Cardboard cribs represent an innovative and eco-friendly alternative to standard cribs. They are light and functional but also safe and comfortable for babies. Possibility of their customization, affordability and environmental benefits make them become more and more popular among parents. When you choose the cardboard crib, you not only care about your child's comfort and safety, but you also contribute to the protection of natural environment.