FLAP BOXES
Flap boxes are one of the most popular types of cardboard packaging. Their simple construction makes them practical and functional during use. Thanks to that they may be widely used in many industries and households to secure products for storage or transportation.
WHAT ARE THE CHARACTERISTICS OF FLAP BOXES?
This type of packaging is made of a few layers of corrugated cardboard (E,B,C,EB,BC) which is composed of a glued paper pulp containing wood pulp, waste paper and individual fillers and stabilizers. The raw materials used during production are environmentally friendly and easy to recycle. During recycling, cellulose can be recovered, and as a result of this process, corrugated cardboard and paper is produced.
The bottom and cover of such a box are arranged in characteristic flaps that allow it to be closed conveniently. These packagings are available to customers in a flat form provided for self-assembly. In order to close such box, an adhesive tape must be used. The more layers a flap box has, the more resistant it is to loads, impacts and shocks.
Production of our flap packaging does not require any additional tools, like special cutting tool necessary for the production of folding packaging.
FLAP PACKAGING AND ITS ADVANTAGES
This type of packaging is characterized by its great functionality and practicality during use. Its major advantage is the ease of storage. The box can be unfolded to its original flat form without too much trouble and stored in the desired place, and if necessary, it can be folded back and used to pack individual items. It is highly recommendable to store the box away from damp areas, otherwise it may subject to damage.
Flap boxesEach flap box guarantees safety for transported items and perfectly protects them from unfavorable external factors, i.e.: dust, damp or mechanical damage. Major advantages of the flap boxes include: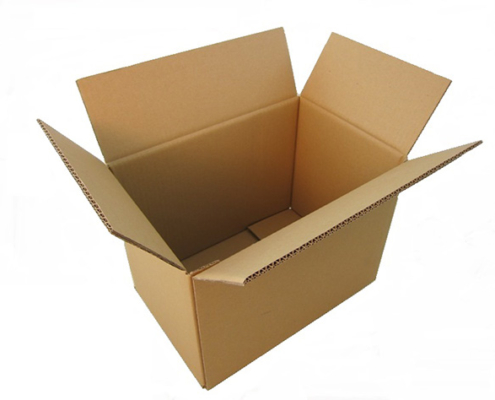 versatile application,
attractive price,
low packaging weight,
simple construction,
high durability,
aesthetic workmanship,
customizability,
variety of sizes,
ease of folding.
Each flap box can be marked with the company's logo and then it becomes a very effective advertising medium.
COMMON USE OF FLAP BOXES
These packages allow you to organize your space and keep things in order in many places. They are very often used as a packaging for:
food,
electronic equipment,
cosmetics,
medicines,
toys,
books,
clothing,
or serve as another type of packaging for transporting purposes.
Flap boxes may be used as a bulk packaging for individual boxes. They are very useful both for sending small goods or palletizing.