BOXES FOR MOVING OUT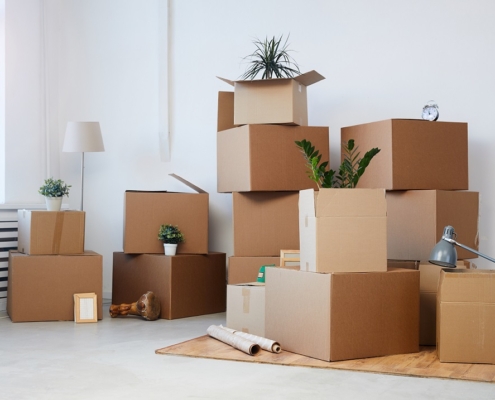 A new apartment or renovation means a serious change in life. If you need some help in moving out, we are ready to help you! Transporting possessions is a major logistical challenge. All the most necessary items that we want or are forced to take with us must be carefully packed and secured for transport and storage. Moving to a new place often means living among cardboard boxes for some time – until we finish our new place of living. With our cardboard boxes, moving things will become much easier!
BOXES FOR MOVING OUT – A QUICK WAY TO PACK THINGS
Our boxes are a multi-use packaging material and may be used in many ways – not only during moving out. Clean and neat cardboard boxes give you a perfect solution if you change a place of your business and want to safely transport documents, stationary, binders and other items of equipment. What is more, these large boxes may be folded and stored for other needs, without taking much space. New boxes and cardboard packagings are a safe solution for transporting clothing and fabrics, with no risk of their contamination. Faced with the expense of renovation work, it's worth looking for a low-budget alternative to packing valuable equipment. Where to buy cardboard boxes for moving? Obviously you can go to your nearest home improvement store, but we guarantee that the prices of cardboard packaging will be much higher than you might expect due to the high margins imposed by big-box stores. A much better and cheaper solution is purchasing cardboard packaging from Karton-Pak!
WE WILL DO OUR BEST TO HELP YOU!
If you wonder where to buy cardboard boxes for moving, check our offer, which includes clean and durable boxes in many sizes and load capacities. We offer a wide range of cardboard products, which will allow you to transport various items, such as: devices, household appliances, books, tableware, utensils, pots, toys and fabrics. We provide you with folding and flap boxes for packing both fragile decorations and heavy equipment with a thickness of corrugated cardboard from 1.5 to 7 cm. The renovation dizziness is not the time to fret about such mundane matters as the organization of used cardboard boxes. You don't have to wait long for your order to be processed.
Boxes for moving will let you minimize the risk of damage to your property during its transport, protect your things from paint splashes during the renovation and help quickly organize the space in the new place.