Cardboard pizza boxes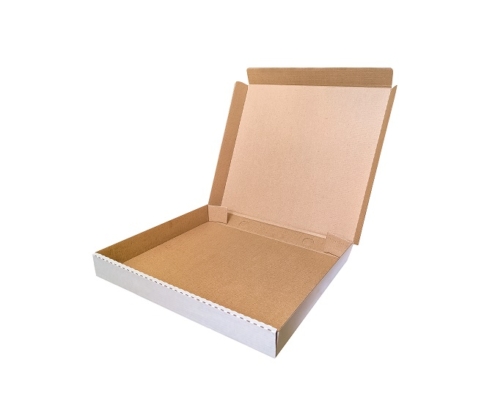 When we think of eating out, one of the first products that comes to mind is pizza, and it is packaged in a cardboard box. Pizza cartons perform a number of important functions that contribute to keeping this delicious dish fresh and protected. There are many advantages to these simple but extremely useful packaging.
Firstly, pizza cartons provide protection. They are made of strong, durable material that protects the pizza from mechanical damage during transport. In this way, we can be sure that our pizza will arrive in perfect condition, with no smearing of cheese or damaged dough.
Secondly, pizza cartons preserve freshness. Good quality cartons are usually made of air-permeable materials, allowing air to circulate around the pizza. This allows steam and moisture to escape, helping to keep the bottom crisp and the flavour fresh. In this way, the pizza retains its perfect texture and flavour for a longer period of time.
In addition, pizza boxes are convenient to use. They have special cut-outs or folding flaps that make it easy to carry and serve the pizza.
Production of pizza boxes – key details
The production of pizza cartons is our speciality. We invest in state-of-the-art technology and high-quality materials to provide our customers with packaging that meets the highest quality standards.
The production of pizza cartons is a process that involves several steps. First, the raw material, namely corrugated cardboard, is cut to the right size and shape to fit the size of the pizza, so that the carton takes a form that provides protection and practicality.
Another yet important element in the production of pizza cartons is the ability to print your own graphics on the packaging. This gives restaurants and pizzerias the opportunity to personalise and promote their brand. Graphics, company logos or attractive designs can be printed on the outer surface of the carton, attracting customers' attention and building brand recognition.
Our company has many years of experience in producing pizza packaging and is a trusted supplier to many local pizzerias. Thanks to our expertise and professionalism, we provide cartons of the highest quality that meet the requirements of the catering industry. Not only do we provide our customers with robust and durable packaging, but we also offer customisation options, including graphic printing.
As a long-established company, we know the unique requirements of the foodservice industry and how to deliver packaging that protects pizzas, keeps them fresh and promotes our customers' brand at the same time. We are proud of our long-standing partnerships with local pizzerias and strive to continually improve our products to meet the growing needs of the market.
Our company is also committed to the environment, which is why we use eco-friendly materials for our pizza boxes. We use cardboard, which is one of the most environmentally friendly packaging materials. Cardboard is biodegradable and comes from renewable sources, which makes our cartons more environmentally friendly than traditional plastic packaging.
By choosing cardboard as the material for our pizza cartons, we aim to reduce our environmental impact. Furthermore, cardboard can be recycled, which helps to reduce
waste and save natural resources.
Therefore, in addition to providing functionality, protection and aesthetics, our pizza cartons are sustainable. By working with us, our customers can be assured that their packaging is produced responsibly and has minimal impact on the planet.
Pizza boxes in various sizes and other sizes
Our range includes packaging for pizzas with a diameter of:
25 cm
30 cm
32 cm
36 cm
40 cm
42 cm
45 cm
50 cm
The packaging can be produced in both the "eco" version (brown-brown) and the classic white-brown version. We can also print on all types of packaging.
In addition, our range includes many other catering-related packaging types, such as packaging for kebabs, burgers and fries.
And if you are interested in a different size, shape or type of packaging for your product – we will make it for you!